Skip to Main Content
It looks like you're using Internet Explorer 11 or older. This website works best with modern browsers such as the latest versions of Chrome, Firefox, Safari, and Edge. If you continue with this browser, you may see unexpected results.
The Selma Voting Rights March and Its Legacy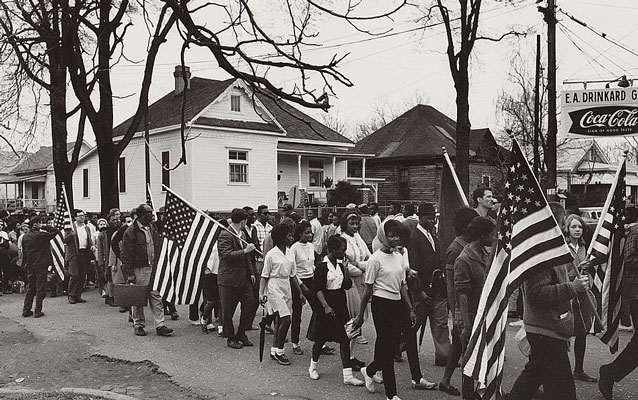 Participants in 1965 march from Selma to Montgomery. Photo credit: Peter Pettus, Library of Congress: LC-DIG-ppmsca-08102
In March 1965 it took civil rights protesters three tries to overcome violent opposition to march from Selma to Montgomery, Alabama as part of a peaceful crusade for Black voting rights. A few months later President Johnson signed the Voting Rights Act into law. Now, more than 50 years later, new laws and court rulings have put voting rights in danger, especially for Black Americans.
Photo credit: Chuck Burton/AP
Recommend Resources
We look forward to your recommendations for additional resources to include in Antiracism: A Resource Guide.
Please submit a Research Help Form including your recommendation(s) and any links or comments you choose.
Thank you for helping to build this new Skyline College resource.
Voting Rights Timeline
Did You Know...
that the U.S. Constitution initially allowed only White men who owned property to vote?
that women couldn't vote in national elections until 1920?
that it took nearly 100 years after the 15th Amendment gave Black men the vote that Blacks were in reality able to vote?
See this Timeline from the iVote Civic Education Fund to learn how suffrage has expanded from 1789 to the present. The American Civil Liberties Union has an Interactive Timeline on the history of voting rights.
Can You Vote?
You can vote if you:
Who can't vote?
Source: USA.gov
Who can vote in California?
You can vote in California if you are registered. The requirements are:
You can register to vote online or through your county elections office. Except in special circumstances, you must register at least 15 days before the election. It's a good idea to verify your registration.
All information for how and where to vote in November is available on the General Election 2020 website. The Official Voter Information Guide is also available online. You can track your ballot if you mail it.
Source: California Secretary of State