Skip to Main Content
It looks like you're using Internet Explorer 11 or older. This website works best with modern browsers such as the latest versions of Chrome, Firefox, Safari, and Edge. If you continue with this browser, you may see unexpected results.
Podcasts
Recommended Podcasts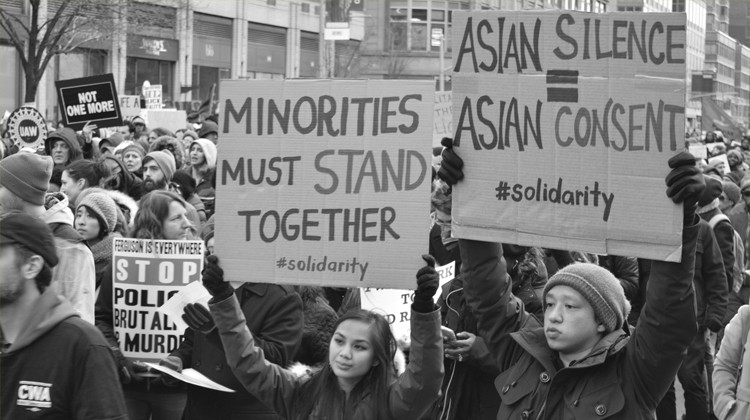 Photo credit: Marcela/Flickr
Below we recommend podcasts related to Asian Americans and antiracism. We look forward to your recommendations as well.
Asian American Podcasts

A listing of a wide variety of podcasts related to history, culture, current events, identity, heritage and more.

Code Switch - NPR

What's CODE SWITCH? It's the fearless conversations about race that you've been waiting for! Hosted by journalists of color, our podcast tackles the subject of race head-on. We explore how it impacts every part of society — from politics and pop culture to history, sports and everything in between. This podcast makes ALL OF US part of the conversation — because we're all part of the story.

Model Majority

This podcast is the brainchild of Tony Nagatani and Kevin Xu, two former staffers of (a lot of) political campaigns and the Obama White House. We just happen to be Asian American. "If you find the Asian American voice lacking in politics, fellow Asian-Americans, Tony Nagatani and Kevin Xu felt the same way. These grassroots organizers talk about politics, activism and civic engagement." -nextshark.com

Momentum: A Race Forward Podcast - Colorlines

Momentum: A Race Forward Podcast features movement voices, stories, and strategies for racial justice. Co-hosts Chevon and Hiba give their unique takes on race and pop culture, and uplift narratives of hope, struggle, and joy, as we continue to build the momentum needed to advance racial justice in our policies, institutions, and culture. Build on your racial justice lens and get inspired to drive action by learning from organizational leaders and community activists.

Potluck Podcast Collective: Unique Asian American Voices and Stories

We are a collective of independent Asian American podcasters who have come together to highlight stories, voices, and perspectives from the Asian diaspora. From discussions about pop culture to narratives about our shared histories and heritage, our shows aim to entertain, elevate, and build community by amplifying and supporting Asian diaspora voices in podcasting.

Self Evident: Asian America's Stories

Self Evident is where we tell Asian America's stories, to explore what it really means to claim America today. Each episode presents an in-depth story or conversation from specific communities within the Asian diasporas in America. We bring Asian American voices into the national conversation like they've never been heard before — across generation, across cultures, and across class.

Women of Color Podcasters: 30 Asian American Podcasts to Support

WOC (Women of Color) Podcasters is a community helping women of color amplify their voices, connect, share resources, collaborate and geek about all things podcasting.

Evident: Asian American's Stories

A podcast that aims to challenge assumptions about Asian Americans,
Radio Programs
Many radio station websites offer a variety of audio choices to listeners, including schedules and links to their regular live shows, recorded broadcasts that are not necessarily podcasts, and actual podcasts.
Local Bay Area stations which do this include KQED radio and others. For Asian American programming try KVTO, KEST and KPFA.
Recommended radio programs:
Sacramento City Councilmember Mai Vang closes out the vigil surrounded by women leaders.
Photo credit: Andrew Nixon/CapRadio